Object Views.
Interfaces are to implementation classes as database views are to tables
I'm working with a team on which this design has emerged...
Essentially this supports a tree of A's, with nodes implemented by B, C and D.
The DBA on the team was concerned that this design did not accurately reflect the fact that B was fundamentally different from C and D, which were more alike. The root node could only be a B, but B, C and D could all be leaf nodes. I was trying to explain that while B, C and D appear equal in this diagram, the rules that separate them could be expressed in the implementing classes. Clients of A don't care that only B can be a root node. Clients of B do, but clients of A don't.
He also added that there are additional methods on B that don't apply to A. So we added E to the mix...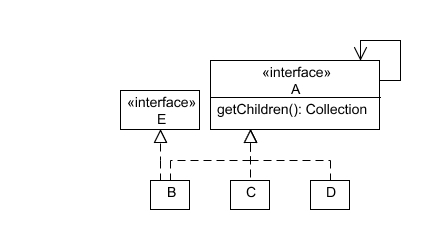 I was struggling to help the DBA understand that this structure allowed us to view a B as an A or an E when I told him to think of it like a view in a database. This helped a lot to clarify what was going on for him, and it also led me to explore the analogy further.
What is the purpose of an interface? There are likely several answers but the one I'm interested in this context is that it is an abstraction that isolates the client code from the implementation details. Even that answer can be broken down into two answers:
* the client code need not be changed when implementation changes
* the developer working on the client code need not concern himself with implementation details
In the latter, the person working on the client code just sees an E. So the E interface simplifies the "conceptual weight"* that the developer must bear when dealing with an instance of B. To her it's just a simple E. In a sense, you could say that it clarifies the meaning of what a B from the perspective code or a person that is interested in an E.
Similarly, a database view...
* serves to present complex data in a more human-understandable form - typically through de-normalization.
* isolates client code from the normalized structure (implementation detail) of the underlying data.
The thing that I like about this analogy is that most developers (object and data) understand why it's helpful to represent data in a denormalized fashion - it's easier to read
from the outside
. And there are often many views of the same data, especially in applications that have a lot of reports. When you add a report you can just add a new view into the same data. If the underlying tables change in any way, code need not change because it relies on the view, not the tables.
Conversely, in my experience, developers often come to interfaces from the bottom up. TDD even guides us to do that: create a class, create a second class, recognize their similarities and abstract the similarities up to an interface. This serves to minimize duplication, but it doesn't deal with the external view. The fact that you can look at a B as an A or an E is every bit as powerful as our ability to present multiple views of data stored in database tables.
* Joshua Bloch's Effective Java talks about "conceptual weight" being a factor in determining how long it will take to learn the API.
* The above diagrams were created with
UMLet
---
!commentForm