The Speed of Java, C++, and Ruby
You might find the following chart interesting. It shows the same "Sieve of Eratoshthenes" algorithm in Ruby, Java, and C++. I've posted the code at the end of this article.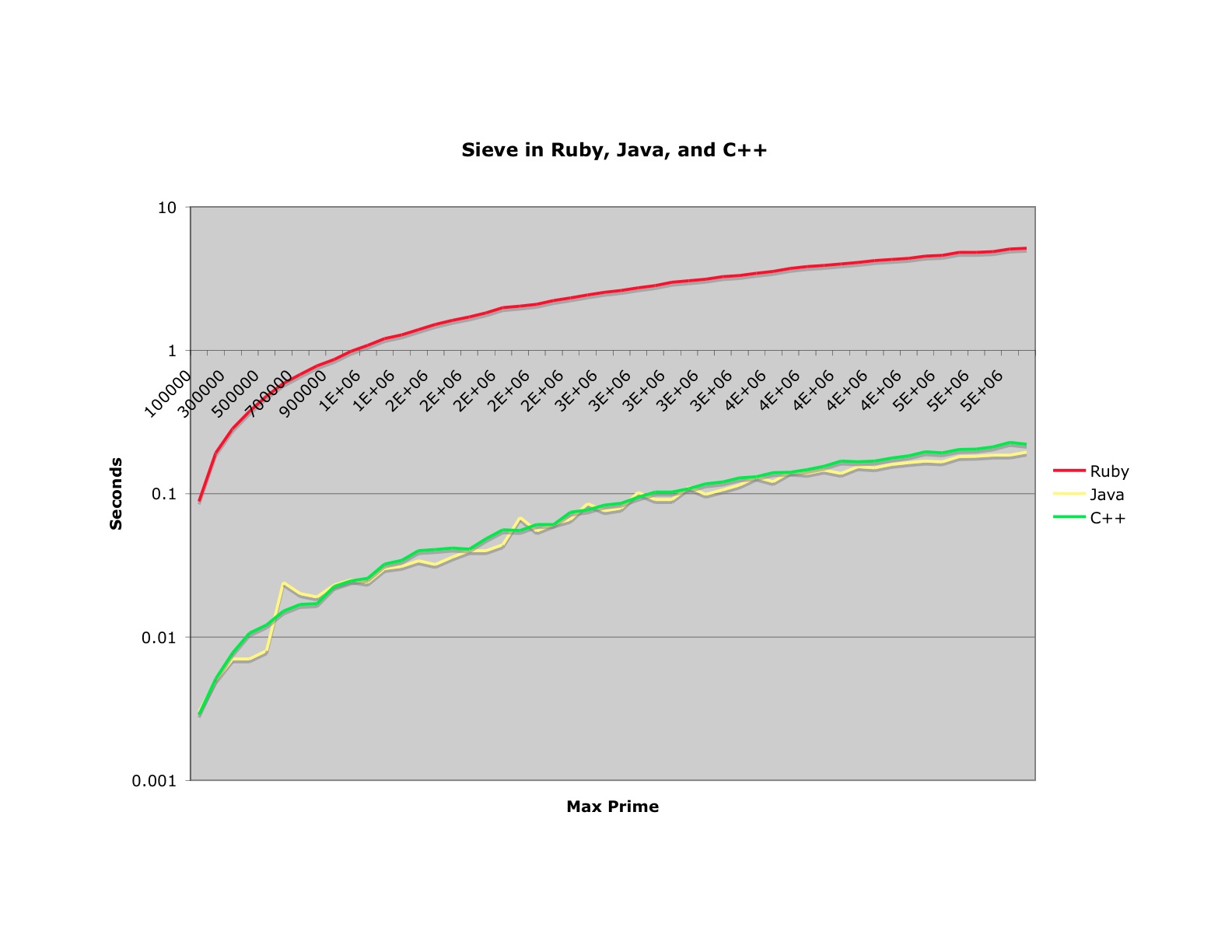 OK, clearly Ruby is slow, by about 1.5 orders of magnitude. That's not great news for the Ruby crowd. On the other hand,
Oh boo hoo!
Ruby is as fast as a top-flight machine 5 or 6 years ago. My heart bleeds. When I remember the miracles we were able to perform on machines with a cycle time of less than a megahertz...and we walked uphill both ways!
Notice that all three curves are the same shape. And as we learned in
my previous blog
that shape is perversely linear. Finally notice that the Java curve is just a wee bit faster than the C++ curve. You can blame this on the non-optimized gcc compiler I was using (cygwin) but again:
Oh boo hoo!
. If there are any C++ programmers out there who smirk at the supposed slowness of Java, I think you'd better reconsider.
And for you Java programmers who are smirking because your environment is 30X faster than Ruby, I'm sure a ruby jitter is going to show up. And anyway, I'd rather have simple, clean, maintainable code over even 1.5 orders of magnitude in many cases.
Ruby
require 'benchmark'
def sievePerformance(n)
  r = Benchmark.realtime() do
    sieve = Array.new(n,true)
    sieve[0..1] = [false,false]

    2.upto(Integer(Math.sqrt(n)) do |i|
      if sieve[i]
        (2*i).step(n,i) do |j|
          sieve[j] = false
        end
      end
    end
  end
  r
end
Java
public class GeneratePrimes {
  public static double generate(int max) {
    long start = System.currentTimeMillis();
    boolean sieve[] = new boolean[max];
    Arrays.fill(sieve, true);
    sieve[0] = false;
    sieve[1] = false;
    for (int i = 2; i < Math.sqrt(max); i++) {
      if (sieve[i]) {
        for (int j = 2*i; j < sieve.length; j+=i) {
          sieve[j]= false;
        }
      }
    }

    return (System.currentTimeMillis() - start)/1000.0;
  } 
C++
#include <iostream>>
#include <math.h>
#include <sys/time.h>

using namespace std;

double generate(int max) {
  struct timeval start;
  struct timezone tz;
  gettimeofday(&start, &tz);

  bool *sieve = new bool[max];
  for (int i=0; i<max; i++) sieve[i] = true;
  sieve[0] = false;
  sieve[1] = false;
  for (int n=2; n<sqrt(max); n++) {
    if (sieve[n]) {
      for (int j=2*n; j<max; j+=n)
        sieve[j] = false;
    }
  }

  struct timeval end;
  gettimeofday(&end, &tz);

  double startSecond = start.tv_usec/1000000.0;
  double endSecond = (end.tv_sec - start.tv_sec) + end.tv_usec/1000000.0;
  return endSecond - startSecond;
}


int main(int ac, char** av) {
  for (int i=100000; i<=5000000; i+=100000) {
    double time = generate(i);
    cout << time << endl;
  }
} 
!commentForm -r